Hi, sorry for the month long hiatus. I've spent that time desperately trying to complete work so that I'll pass my course with good enough grades to go to university. Anyway moving on, today is the start of the week long BookTubeAThon.
The BookTubeAThon was created by two booktubers Ariel Bissett and Raeleen Lemay and the goal is to read as many books as you can between the 15th – 21st July. There are also 7 different challenges.
Read 300 pages a day
Read a book with over 500 pages
Reread a book
Finish a series or trilogy
Read a book that's been on your selves for ages
Listen to an audio book
Read a classic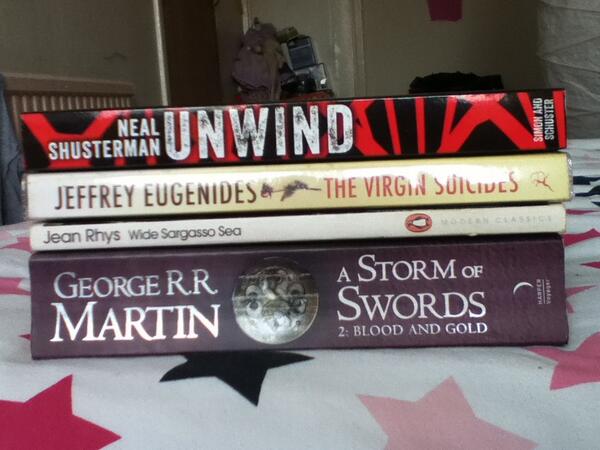 I've decided I'm going to read four books: Unwind by Neal Shusterman, Wide Sargasso Sea by Jean Rhys, The Virgin Suicides by Jeffrey Eugenides and A Storm of Swords 2: Blood and Gold by George R.R Martin. Unwind will be a reread, Wide Sargasso Sea is a classic and A storm of swords is over 500 pages long.